Honda Dealer Invoice Pricing Will Get You A Fair Deal
When I worked with Honda I was given the dealer invoice prices and the monthly factory to dealer incentives and I believe the Honda buying public has a right to have this knowledge.
Again, there are many websites on the internet that will share this information with you but of course they want to charge you for it. For the Honda consumers in the United States it can sometimes be a little easier to obtain this information and now, fortunately we have made it easy for you to get Honda Canada invoice prices.
I have obtained the invoice prices for both Canada and the United States which I will share with you,
free of charge and with no obligations to me.
Yes, I'm totally serious. I always shared this information with my clients when I was a salesman at my local Honda dealer.
I would also help my clients with great honda car insurance quotes from this site after sharing the dealer invoice price.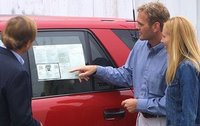 I am not sure of how you feel about having this knowledge before you make your decision on which new Honda you want to purchase but I believe it hurts neither the consumers nor the merchants. I believe that all it is achieving is a fully disclosed and honest discussion. I will tell you that not all dealers will offer big discounts from Honda's prices (MSRP). You as the consumer may have to make some phone calls to find your best deal. I am in the process of arranging a guaranteed percentage above invoice from all your local dealers.
For Canadian Invoice Prices and factory incentives please click here.
Click Here for American Invoice Pricing and Incentives
Do You Have A Honda Experience You Would Like To Share?
Do you have a good or bad story you want to share about the Honda prices you got, your own car buying tips or about your dealership experience? Share it here!
What Other Visitors Have Said
Click below to see contributions from other visitors to this page...

Buying Made Easy Not rated yet
I would like to take this time to thank you for the assistance of the purchase of our new Honda Civic. I always find the car buying experience trying because …